When I think about what we're doing to our climate, our planet and each other, I often get depressed. On other days, depression would be a step up, as I'm mired in a dystopian swamp of overwhelm, despair and grief. Such reactions are understandable. But even in those moments, I try to remember the words of author and climate activist Kim Stanley Robinson: "At this point, given the climate emergency, dystopia is pouring oil on a burning house."[1] I prefer to try to be part of the "Order of the Teaspoon," based on Amos Oz's observation[2] that we all have a choice when confronting a huge conflagration: Do we run away, not worrying about those left behind? Do we find someone to blame? Or do we bring a bucket of water, or a glass, or, failing that, a teaspoon, knowing that our teaspoon will only make an infinitesimal difference, but also that there are millions of us with teaspoons.
But how do we find even a teaspoonful of hope? And would a million, or even a billion, such teaspoons make any difference? For the past year, I've been part of a global, interfaith effort that has revived my hopes, and it's also reminded me about the deeper power of small acts. A year ago, I received a letter from the Vatican, asking me to be part of an effort to produce a broadly interfaith dialogue of faith and scientific leaders. These leaders would come together to draft an "Appeal" to present to the nations of the world in advance of COP26,[3] the recently concluded climate negotiations in Glasgow. The letter provided little in the way of detail, so I imagined I was one of thousands of people receiving this invitation. I was wrong. About 40 faith leaders and 10 scientists participated, and when I saw the list, I thought of the old "Sesame Street" song: "one of these things is not like the others." Because, besides me, the others on the list headed major, even global, religious or interfaith bodies — Pope Francis; Ecumenical Patriarch Bartholomew, the spiritual leader of Orthodox Christians worldwide; Dr. Mohammad bin Abdulkarim Al-Issa, Secretary-General of the Muslim World League; the Archbishop of Canterbury; the head of the World Council of Churches; and leaders of global stature in Buddhist, Jain, Sikh, Hindu, Zoroastrian and indigenous traditions. And me, from Scranton, Pa., representing the Coalition on the Environment and Jewish Life, which has one part-time employee.
The first teaspoonful of hope I received came from "my" bishop, the Most Reverend Joseph C. Bambera. When I asked him for any advice he could give me about Vatican conferences, he told me that under this pope, such gatherings were truly dialogues, not merely attempts to get "amens" in response to a pre-ordained statement. So, he continued, if they asked me to come, they must want to hear from me. With the bishop's blessing, I entered into a nine-month-long series of preparatory virtual discussions ready to speak up, rather than being intimidated by the august company I was keeping. And as I spoke up, I came to realize that I had something important to offer, for I've been working on the intersection of climate and faith for two-thirds of my life, while climate was just one of dozens of issues for most of the other participants. As one of only four participants from the United States and one of only two rabbis, I also decided to expand on the idea of the dialogue, consulting throughout the process with the many faith-based climate activists I've worked with through the years. I regularly shared their wisdom with the group.
The next teaspoonful of hope came as we moved from more general discussions to the actual drafting of the Appeal, which we were supposed to sign in person at the Vatican on Oct. 4, 2021: Saint Francis Day. This time, what I found inspirational was the group's reaction to the message of hope itself. As we discussed what special contribution we, as a faith/science dialogue, could make to the Glasgow climate negotiations, we listed a number of key faith principles: recognition of the blessed gift of our common home, the Earth; the need for justice between nations, between generations, and between different groups within and across nations, especially those in poverty, people of color and indigenous peoples. I put forward the common religious theme of hope — and there was immediate and profound agreement. I was asked to write something along those lines for the Appeal, and what I wrote became the document's closing paragraph. After several rounds of edits, it reads:
Our hope: A time of grace, an opportunity that we cannot waste
We are currently at a moment of opportunity and truth. We pray that our human family may unite to save our common home before it is too late. Future generations will never forgive us if we squander this precious opportunity. We have inherited a garden: we must not leave a desert to our children. Scientists have warned us that there might be only one decade left to restore the planet. We plead with the international community, gathered at COP26, to take speedy, responsible and shared action to safeguard, restore and heal our wounded humanity and the home entrusted to our stewardship. We appeal to everyone on this planet to join us on this common journey, knowing well that what we can achieve depends not only on opportunities and resources, but also on hope, courage, solidarity and good will. In an age fraught with division and despair, we look with hope and unity to the future. We seek to serve the people of the world, particularly the poor and the future generations, by encouraging a prophetic vision, a creative, respectful and courageous action for the sake of the Earth, our common home.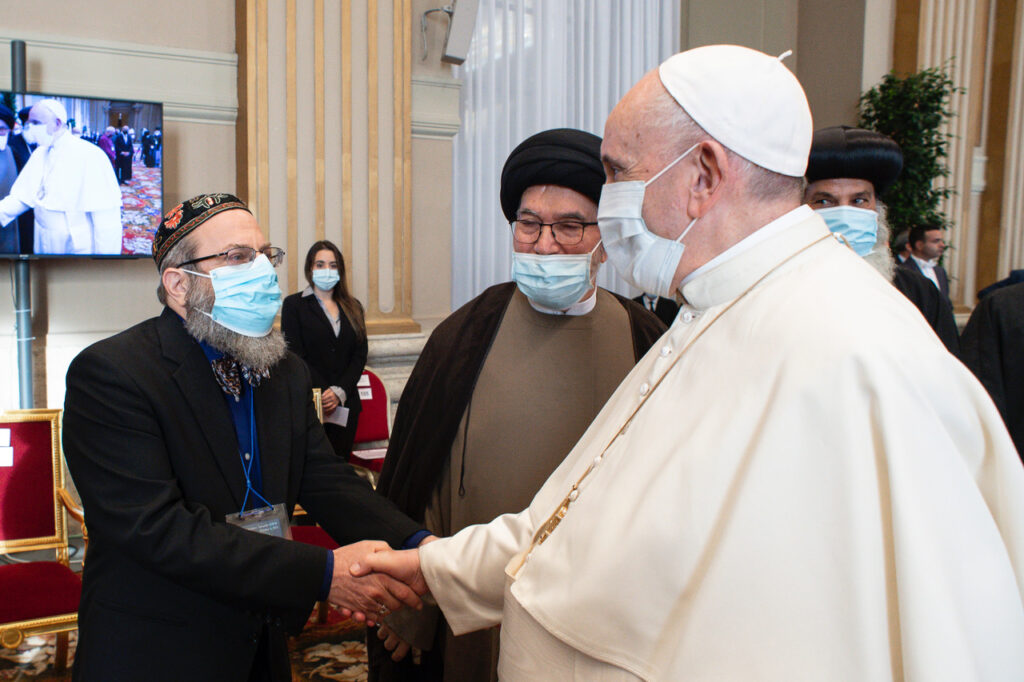 The negotiations over the final wording for the document — about 2,200 words in English — were prolonged but respectful, and nearly all the suggestions I put forward, including those I received from other climate-faith activists, were incorporated into it. The early fall proved to be a brief pause between COVID waves, and so the in-person gathering at the Vatican went forward. As it was nearly our 10th wedding anniversary, my wife and I decided to spend a week in the Tuscan countryside before heading to the Vatican. We arrived in the midst of a three-month drought. Everyone we talked to — from the vintners to the farmers to the shopkeepers to the truffle-hunters we tagged along with — understood that they were witnessing climate change. They feared for the generations to come, but they found a measure of hope in different faiths coming together, along with scientists, to push for the changes they all believed were necessary.
The days at the Vatican were packed. We started with an evening meeting and reception, where I finally was able to meet in person all those with whom I had interacted in their little boxes on the screen for so many hours together. As blessed as we were to have been able to gather across such distances and through so much turmoil, finally being in each other's presence, sharing food together and having unplanned, unstructured conversations with each other reminded me how much is lost when we are only virtually together. Then came the official signing on Oct. 4 in the grand and ornate Hall of Blessings. It was an impressive spectacle, with press from around the world, greetings from the president of COP26 and youth climate activists, and even a ceremonial tree-planting.
But I personally found more hope in our private gatherings the rest of that day and in a smaller public meeting the following day. In private, we agreed to continue to work together, by, for example, reconvening in January to "grade" what did — and didn't — happen at COP26 according to the principles we laid out in the Appeal. Then, on Oct. 5, World Education Day, we met to discuss the connection between education and sustainability. Unlike the highly scripted signing, 20 of us sat around a table, together with Audrey Azoulay, director-general of UNESCO. We each were supposed to speak for three minutes, at which point we would present the director-general with a "Global Compact on Education" that we had jointly composed and signed earlier. Pope Francis spoke first, making a very eloquent statement about the need to move away from fundamentalism and beyond mere toleration to the intentional and passionate welcoming of diverse viewpoints, of really hearing and paying heed to different voices. He also highlighted the importance of educational rights for all, explicitly calling for greater resources directed towards the education of girls and women.
At that point, unfortunately, some of my colleagues did not manage to stay within their allotted time. The Vatican official who was chairing the meeting became more and more nervous, several times requesting that we be cognizant of the time but not actually cutting anyone off. Then, just before the 17th person spoke, he announced a change of plans. After that speaker, we would present the Compact to Ms. Azoulay, at which point the pope would have to move on to another meeting. I was quite disappointed, not the least because I was supposed to be the 18th speaker. The 17th speaker finished, we presented the Compact, and a cardinal came over to Pope Francis to escort him to the next meeting. But to everyone's surprise, the pope refused to budge. He had just noted the importance of hearing different voices, and he wasn't going to go back on his word.
So I and the last two speakers had a chance to be heard. I spoke of texts showing the Jewish commitment to educational opportunity, such as Takanat ben Gamla (Bava Batra 21a), that laid out a societal commitment to publicly funded education, and how Kiddushin 29a, in discussing parental obligations to children, laid out something remarkably similar to modern calls for educating the whole student — developing not only a base of knowledge, but also teaching how to build healthy relationships, how to integrate head, heart and hands, how to enjoy the outdoors and how to take part in the building of society. I closed by talking about my daughter. I said, "21 years ago this summer, we welcomed our daughter, then 13 months old, into our home. As a family, we are all keenly aware of how many opportunities she has that might have been denied her, and since she was in preschool, she has remained steadfastly committed to opening doors for others. I would let down both the little girl she was and the strong young woman she is if I were to leave here today without doing my utmost to ensure that all children are given the holistic education they, and our planet, deserve."
As I talked about her, I noticed that one of my colleagues, Ayatollah Professor Seyed Mostafa Mohaghegh Damad, the head of the Islamic Studies Department at the Academy of Sciences in Teheran, had a visible change in affect. While he had been paying close attention throughout the gathering, he now leaned forward, nodded vigorously, and gave the sweetest of smiles. It was a transformational moment, and it led me to realize how little I knew about him, including (I read afterward) that he has made numerous public statements supporting the Universal Declaration of Human Rights, has spoken out for greater rights for women and religious minorities and against any form of religious coercion — all stands that could put him very much at risk.
I was greatly buoyed by these personal interactions, and my hope grew further as my climate-faith colleagues in the United States helped me spread the message of the Appeal. They organized a demonstration in front of the U.S. State Department, where I spoke and they took turns reading the Appeal, a copy of which was presented to special presidential envoy for climate John Kerry's office. We read the Appeal again at a vigil on the Capitol steps during the debate on the bipartisan infrastructure bill. And so, as the date for the opening of COP26 drew near, I was inspired to write a version of tefilat ha-derekh, the traveler's prayer, for President Joe Biden as he journeyed to Glasgow. I reached out to a variety of rabbis and climate-faith activists in the United States, and within just a few hours, we had a notable list of leaders joining me in the prayer, which was also covered in the Jewish press.
As COP26 drew to a close, I discussed with fellow activists in the Washington Interfaith Staff Council what sort of prayer might mark the conclusion. Shayna Han, the environmental legislative assistant for the Religious Action Center of Reform Judaism, suggested that it should be a sending forth rather than a conclusion. I thought immediately of the Birkat Levanah, traditionally recited outdoors after the ending of one month and in the growing light, symbolizing growing hope, of the waxing moon of the new month, which indeed was the timing of COP's conclusion. Its text, which emphasizes renewal, repair, truth and fulfilling appointed tasks, seemed an appropriate way to bless the participants on their way home and to call for continued action beyond COP26, and so I composed a climate-themed variation on it. This time, I also reached out to my colleagues from the Vatican, who joined with American faith leaders to take our first of what I hope will be many post-Vatican actions together.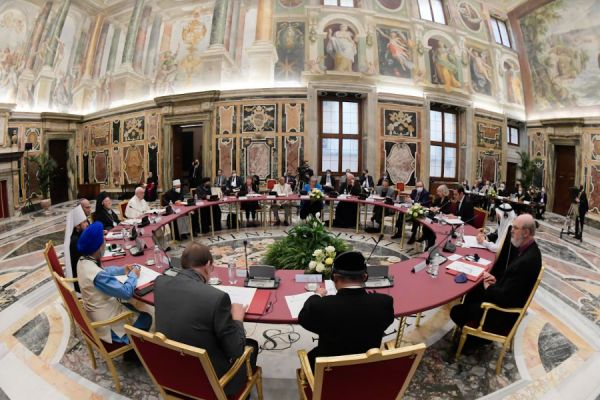 I've also spoken at more than a dozen synagogues, churches and interfaith settings since returning, trying to share a bit of the hope that I've felt, even as COP26 fell far short of taking the decisive action our planet needs. And in each of these settings, I've been asked: "What is one thing I can do to help?"
Of course, I don't stick to one; I make three recommendations based on what I've learned in the past year. First, to love our neighbors more and to continually broaden our definition of neighbor until it includes all life on earth. I firmly believe that we will not be able to take the necessary actions unless we more deeply feel our connection to each other, more deeply love each other and more deeply understand the grand web of life that we are a part of. Second, take up your teaspoon and do one more thing than you are already doing. Change one more light bulb, walk instead of drive, wear a sweater instead of turning up the heat, eat more locally and lower on the food chain. It almost doesn't matter what you choose because it isn't really millions of teaspoons that are needed; it is millions and millions of people taking action. When we take any sort of action — even a small, mostly symbolic one — we start to break out of depression and start to free ourselves from the paralysis of despair, stop running away or hiding our head, and instead join the Order of the Teaspoon and face the fire. Then we can take the third, crucial step: campaign and vote and demonstrate until the system itself is changed, until we stop investing in fossil-fuel infrastructure, stop electing politicians in denial, stop supporting any institution that isn't committed to sustainability right now.
This April, we have the rare convergence that gives us the perfect opportunity to do this work together: Ramadan starts on the eve of April 2 and continues through May 2. Mahavir Jayanti and Vaisakhi fall on April 14, Passover begins on the eve of April 15, Therevada New Year is April 16, and Easter is April 17, or April 24 in the Orthodox tradition. With all these holy days of hope, who knows what we may be able to accomplish together?
Tefilat Ha-Derekh for the Journey to COP26
May it be Your will, Borei HaOlam, Creator of our world, our God and the God of our ancestors, that You lead President Joe Biden toward peace, guide his footsteps toward peace, and enable him to reach his desired destination for life, gladness, and peace. Grant him the wisdom and courage to speak up for all life, for this generation and all the generations to come. You have blessed us with a garden, but our actions threaten to turn it into a desert.
Through your blessing, may the President lead the world to take the swift, ambitious actions needed to protect this common home, Your Earth, so that future generations inherit a just, sustainable, and bountiful world. May generosity triumph over greed, and may all the leaders gathered at COP26 stand in solidarity with the poor and vulnerable. May they work together with President Biden to ensure that all Your children are protected and valued as we make a just transition to a clean energy future. May You bless these leaders with wise and discerning minds, with courageous and caring hearts, and with compassionate and visionary souls. May they hear and heed Your call for justice, and may they answer as our prophets have, Hineni, Here I am, ready to do Your will.
May You send blessing in their handiwork, and grant them grace, kindness, and mercy in Your eyes and in the eyes of all who see them. May You hear the sound of this humble request because You are the God Who hears all who cry out to You. Blessed are You, Eternal Source of Love, Who hears all prayers.
'Birkat Levanah' for the conclusion of COP26
We praise You, our God, Provider and Protector of all the world, who with Your words created the vastness of the heavens, and with Your breath all the life within it. You have given us times and seasons, rain, sun and soil. May we live so as to love and value these gifts, so that countless generations and myriad species may continue to wonder at them. Inspire the nations of the world, their leaders and their peoples, to not falter at our appointed task. May the promises made at this gathering be not only kept but surpassed, until the promise of a sustainable and healthy future reaches the farthest corners of the earth, our common home.
At this moment of opportunity and truth, may we fulfill Your desire for justice and speak truth to power, our Creator, Worker of truth whose work is truth.
Just as the light of the moon is renewed and grows brighter, so may we move past the darkness of division and despair into the light of hope, courage, generosity, solidarity and good will. Guide us to repair our imperfections speedily and soon, before the garden we have inherited becomes a desert we leave to our children. May it be Your will, our God and God of our past, present and future, that we end oppression and move forward united in a spirit of humility, mutual respect, and responsibility to each other and all of life. Blessed are You, Fashioner of life, who endlessly opens the path toward renewal.
---
[1] The Washington Post: https://www.washingtonpost.com/arts-entertainment/2021/12/21/climate-change-movies/
[2] Oz first wrote about this concept in How to Cure a Fanatic. For a discussion of the idea and how people have applied, see: http://www.amos-oz.net/general/order-of-the-teaspoon/
[3] Conference of Parties, the U.N. designation of the various gatherings around international climate agreements. The Kyoto Protocols were developed at COP3; the Paris Agreement came at COP21.